Twitter's Censorship Enables Genocide
Today I posted the following tweet on Twitter:
The Tweet provided a link to this website:
This website and my link published nothing else than the official numbers of the CDC's Vaccine Adverse Event Reporting System / VAERS.
Some time later Twitter locked my account claiming I would "spread misleading and potentially harmful information related to COVID-19".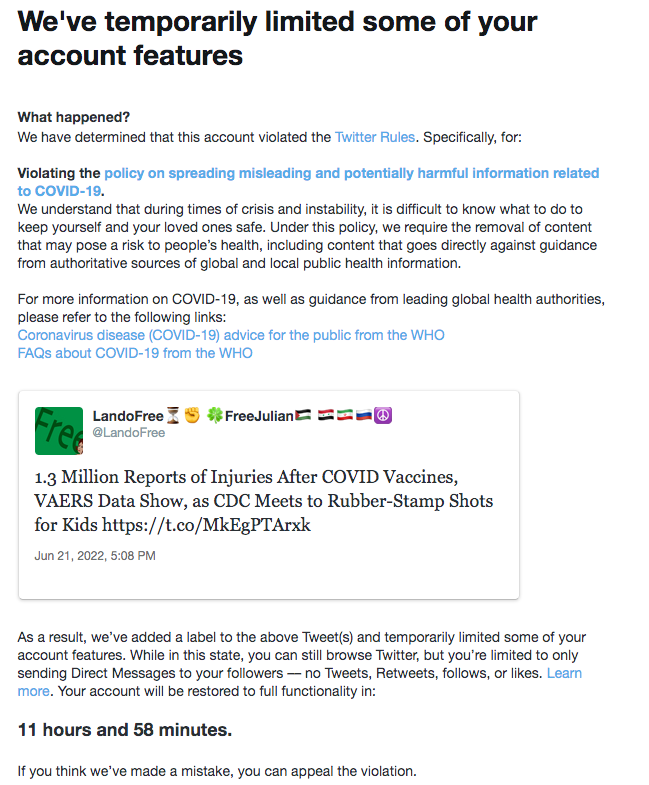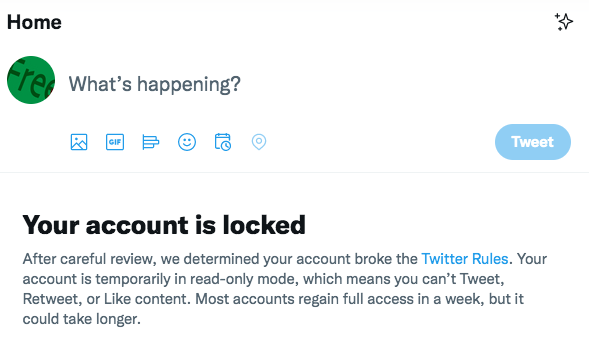 I am no longer able to tweet, like, reply or retweet and have to wait until the self-appointed truth gods graciously will grant me the use of my account functions again.
Since I and the Greenmedinfo.com Website only published the official numbers of the CDC's Vaccine Adverse Event Reporting System / VAERS Twitter should get in touch with them and declare their data misleading. In fact their numbers are probably misleading since they are very likely to give numbers that are much too low than the actual numbers. A Harvard Vaccine Injury Study conducted from 2007 to 2010, reveals a fewer than 1 % report rate in VAERS. Study → Harvard
Periodically I collect the data from the USA CDC's/Vaccine Adverse Event reporting System VAERS and the EU system in EMA/EudraVigillance and publish these numbers. The latest data from April 2022 can be found here:
Many victims and families of victims report that their voices are not being heard. They and their injuries are not taken seriously and are not reported in official systems. Their voices are being censored, muzzled, ridiculed and smeared. When Social Media Tycoons like Twitter or Facebook censor important and relevant information and official data about injuries and deaths, they are enablers of crimes against humanity and genocide.
I sincerely hope that all those who participate in these crimes will be held accountable in the near future!
In case you have an Twitter or Facebook account please share this post and a link to my censored Tweet far and wide and let the people know that all these informations regarding the reactions to the so called vaccines are heavily censored! You might save a life somewhere!
Thank you!